Take a Break from the World and Color Your Stresses Away
Shop Empowering Adult Coloring Books/Journal from Rhon'sWay
When we were young, coloring was by far the most therapeutic and enjoyable part of the day.
The only thing to worry about was staying within the lines but even if our pencil strayed a little outside of the lines, that was okay.
As times change and we get older, that same carefree joy starts to disappear as the real world and all life's problems set in. I'm seeking to change that with my collection of relaxing and empowering adult coloring books with included journal pages to jot down your thoughts, feelings, and hopes for the future.
Rhon'sWay Adds Jigsaw Puzzles, Note Cards, and Wristbands to Adult Coloring Book Collection
The new jigsaw puzzle and note card collection continue the company's mission of empowering black women through inspiring mindful messages.
Enjoy our selection of wristbands. 
You can wear whichever color and statement resonate with you for that day, or where all 8 and be reminded all day long of positive affirmations messages.
We also have a new 2022 Calendar
This calendar was created to show my "Its  My Time Own It" (IMTOI) 50+ Sistars* that we have So Much to offer at this Age and Stage of our lives.  Twelve  IMTOI Sistars* in their own unique style,  share their experiences and life lessons along with some encouraging words.
"I know that different things may appeal to different people. Someone might not like coloring but they love puzzles, or someone may like sending cards with pictures that represent us. I have never seen a puzzle that shows us in all our beautiful skin tones. I was committed to representing us all (from the lightest tones #1 to a darker tone Sistar #10)." – Rhonda Thomas
These coloring books are very important to me, and I wanted to make sure that the images weren't just random, but pictures that would inspire you and motivate you to rise to your life's challenges.
They'll also give you an escape—an escape from everyday frustrations and the digital world (no apps here!) and after finishing a page, you'll come back to the world with a new perspective, a calmer mind, and if all goes well, feeling happier.
Each book has a distinct topic, and can help you find your center depending on what you're going through or what you're feeling on any given day.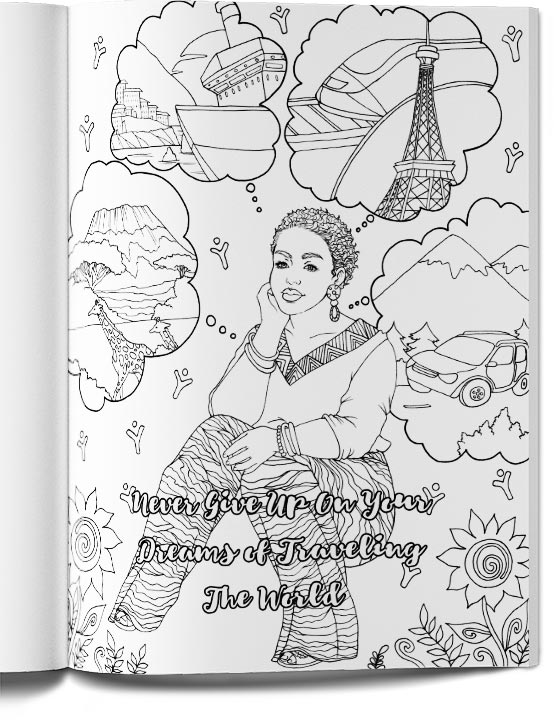 About the Author
Hi, I'm Rhonda Thomas, and I know all too well the hardships, stresses, and obstacles that life can throw at us. After experiencing the struggles of health and illness in my own family and seeing its larger effect on the African-American community as a whole, I chose to devote my life to health, wellness, and transformational speaking. I've had the privilege of sharing my story with people across the nation, and as a way of giving back, have created this selection of coloring books to help you burn off some steam, relax, and forget about the world. 
Words from Fellow Sistars*
"I have had the pleasure of attending several of Rhonda's "Happy Hour" events
which are always uplifting and motivating. Her passion and enthusiasm for
helping women get to their "Happy" is genuine. She has the ability to make
every individual audience member feel important and celebrated, while also
engaging her entire audience in a way that everyone leaves as "new old
friends." Rhonda's Coloring Books are her latest contribution to helping
mature women get to their "Happy." These coloring books can be enjoyed as a
de-stressor, for self-reflection, to inspire/motivate women to continue their
journey towards self-improvement, while having hours of well-deserved fun. I
am buying ALL of these coloring books to share with family and close friends!"
"I never thought that as an adult I could have so much quiet time to reflect on my goals, and at the same time enjoy the process of coloring. Rhonda's coloring books speak to who I am as a black woman. I've never seen anything like this coloring book that represents me, is fun, and speaks my language as a mature adult. Also, the journal prompts are very eye opening and thought provoking, so I feel like I got the best of both experiences. Anyone can enjoy the coloring process, especially when the images look like you. You will enjoy all of the topics she has selected, they are perfect for all of us!"
"This coloring book is a great pick-me-upper when I have down time from
working with my clients. I can see me, my twin sister, and my cousins discussing some of the statements as we color and have fun together. I enjoy seeing images of women who represent me. I intend to buy these unique coloring books for my family and friends."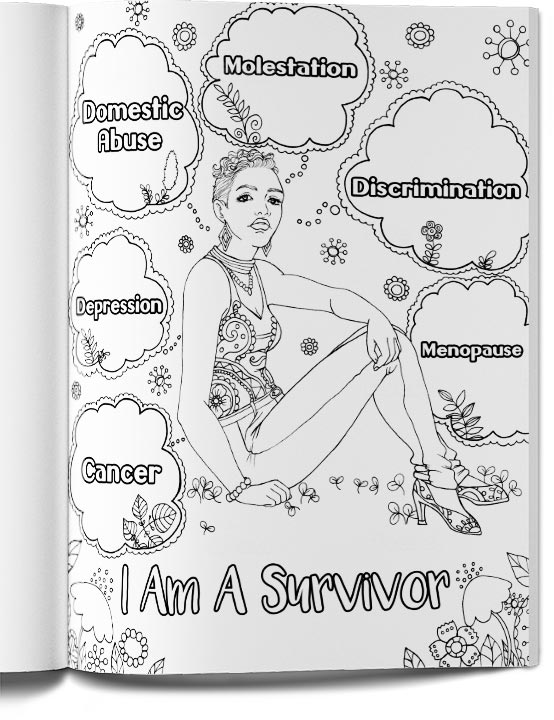 Encouragement, Health, and Happiness One Page at a Time
There are many ways to deal with life's obstacles, some more healthy than others. These coloring books are a quick, easy, and fun way to express your creativity and escape from the world. Take on your biggest challenges and color them away one page at a time.